Downey, CA (12/8/2017) – Murray Racing's Jason and Derek Murray were running a strong third in the Pahrump Nugget 250 Best in the Desert Series race when a fire in their Can-Am ended their race early. The event was the 2017 BITD season finale and was held in the desert surrounding Pahrump, NV.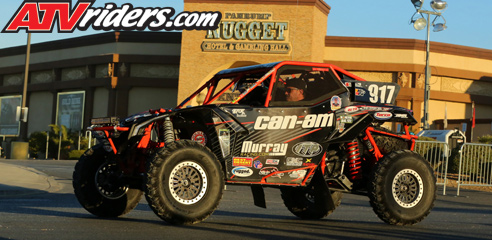 Can-Am / ITP / LSR / Murray Racing's Jason & Derek Murray out the 2017 BITD Pro Turbo UTV Championship just outside the top ten in points
The Murrays were running hard on what was likely the roughest and rockiest course on the 2017 calendar. They quickly picked their way into the top three when their car lost power and caught fire. They were able to douse the flames and escaped unharmed.
"We just set a pace for the first 80 miles because it was really rocky and we wanted to keep the car moving forward," said Jason Murray. "Once we broke mile 80, we started getting down on the gas and we were chugging along third on the course. We were right where we wanted to be, in striking distance for the lead. At mile 150, the car lost power. We limped for three or four miles and the next thing you know the car was on fire. We jumped out and tried to put the fire out. We ran out fire extinguishers and resorted to dirt. Then we used the water in our drinking bladders and got some help from the cars going by. Luckily we put it out and saved the car."
Can-Am / ITP / LSR / Murray Racing's Jason & Derek Murray got off to a great start the Pahrump Nugget 250 running in the top three
Despite a difficult end to what was a challenging desert racing season, the Murrays are already preparing for 2018. They will work hard and fast to get ready for the start of the 2018 BITD season next month.
"Jason drove well," said Derek Murray. "We started out with a brisk, but conservative pace and then we started to pick it up. Unfortunately we had the issue. We'll go back and find out what went wrong. We were confident we would have been in the top two spots. We'll be back to fight again."
The Murray Racing Can-Am matched the difficult course with ease. With ITP Tires, Fox Shocks and Torco lubricants, the car ran flawlessly before the issue.
"It's crazy to think just how far these ITP tires have come over the years," said Jason Murray. "We were smashing—not driving—smashing through gnarly rocks with the utmost confidence. We just ran the Baja 1000 and had zero flats. We ran nearly 250 miles at Pahrump and had zero flats. They will definitely be back next year."
Lubricants are the key to longevity in off-road racing. They can easily make the difference between a win and a DNF.
"We've been with Torco for a few years now," continued Murray. "They provide us with all of the lubricants to keep us running strong. It's a great oil, it doesn't break down and it holds up."
The Murrays ran a new set of dampers from Fox Shocks this year. The lightness and engineering of the new shocks paid off for them this year.
"Fox has been awesome," said Murray. "They helped us out with these new aluminum bypass shocks. They are really light and agile. This was our first season with them, so it was kind of a testing ground, but they worked flawlessly."
The Murrays will be back, and ready to return to greatness, as the BITD kicks of its 2018 season January 5-6. The Casey Folks Parker 250 is being held in Parker, AZ.
Murray Racing 2017 Sponsors:
Can-Am, ITP, Lonestar Racing, FOX, Yoshimura, Lazerstar, Torco, Beard Seats, K&N, Berts UTV, AMR Racing, Shoria, OMF, Rugged Radios, Streamline, Visual Impact, Pyrotech